RETAIL EXECUTION TRENDS 2022

With many advances made in retail execution technology over the past few years, CPG companies are still struggling to gain an advantage and take lead in their market. The CPG industry continues to face new challenges with constant changes in consumer behavior and technology; the key to success is being able to rapidly adapt to these changes at the right time to achieve growth and success. 2022 is the time to prepare for a data-powered retail execution world resulting in better visibility and availability of products sold on the shelf.
As the CPG industry continues to evolve, there are 5 retail execution trends that you can prepare for now to gain a competitive edge.
Trend 1: Return to Grocery Stores
Over the past few months, we have seen a shift to shopping in-stores rather than online.  Store sales compared to pre covid has grown by 4.9% and online has fallen 0.4% month on month. Retail Execution is fundamentally driven by in-store footfall which is very strong right now. At StayinFront, we predict that with the closure of numerous high-street stores the selection is becoming limited and appears grocery stores could be benefiting from this.
NielsenIQ Total Till shows that UK grocery sales fell 2% in the 4 weeks ending 6th November 2021 but against pre-covid figures in 2019, sales increased +4.9%, implying that consumer spending has still not yet completely shifted back to hospitality and leisure. Local and last-minute spend has helped convenience stores to grow by +2.1% which is faster than supermarkets. Online share of sales has fallen slightly to 12.2%, down from 12.6% last month and with visits stores up 6.5%, it looks like shoppers will be embracing omnichannel shopping this Christmas.
Trend 2: Image Recognition Technology
The traditional audit process is outdated; it is time-consuming and accuracy levels are poor. Image recognition technology will be a key CPG market growth driving factor, resulting in increased
sales team productivity, improvement of shelf condition insights, and providing guidance to drive sales.
We have seen adoption in image recognition technology accelerate during 2021, as CPG companies explore ways to speed up in-store activities and improve accuracy.  Based on the results we are witnessing being accomplished in the field, image recognition is no overnight fad. It's here to stay and being developed day by day to make the process even easier for field teams.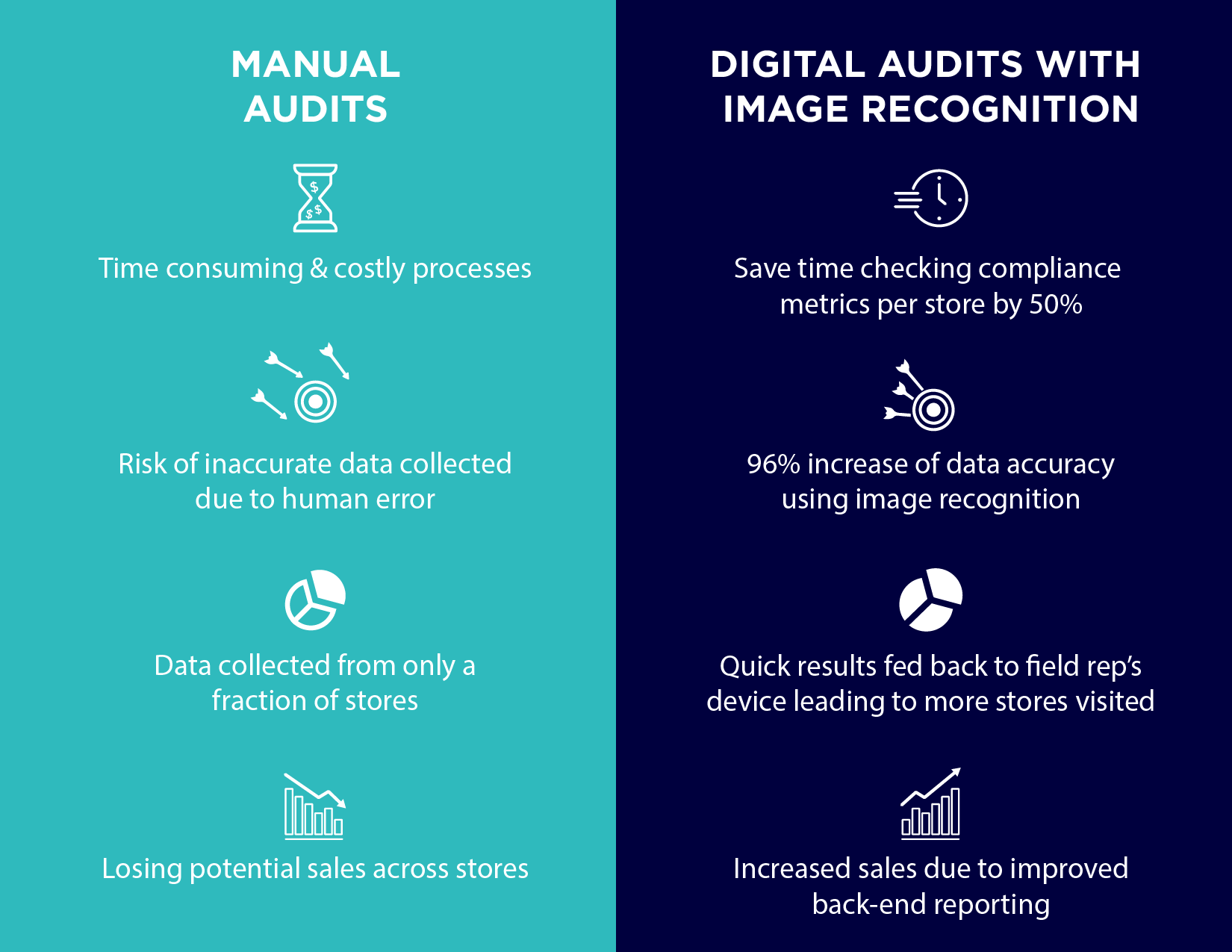 Manual vs Digital Audits
Trend 3: Multiple Data Types to Drive Growth
There has been an increase in the amount of digital data that we are generating, collecting, and analyzing. Data will drive decision-making. At StayinFront, we have found a combination of data store visit execution, image recognition through image recognition, retailer POS and supply chain data, and other sources such as GIS data that will enable field teams to gain more information for better informed next best actions.
Having multiple types of data will help CPG companies to send their field teams to the right store at the right time to get the greatest impact.
The combination all these types of data leads to full understanding of the retail environment
Trend 4: Turning CPG Data into Actionable Insights
As we are in a data-powered retail execution world, CPG companies need to do more with their data to drive the next best actions. 75% of companies may be underutilizing a vast amount of collected data or not utilizing all of it. With the current OSA challenges, it is now more important for CPG companies to focus more on the power of using data to resolve and/or prevent in-store availability issues. Gartner reported real-time visibility of accurate levels of stock availability across channels is crucial to achieving a high level of speed and accuracy in fulfillment execution.
Data Science and digital technology can be harnessed to analyze POS data and can provide actionable insights to valuable resources on performance issues in-store. Analysis of the POS data can identify whether an issue is prevalent in all stores or is only apparent in a limited number of stores. Arming the customer development team or the field sales resources with these insights can enable action to be taken in real-time to address them. StayinFront RDI provides a suite of solutions that automatically alert on performance issues and enable teams to focus on resolving the issues rather than being immersed in analytics trying to understand the root cause.
Trend 5: Digital Transformation – Evolution vs Revolution
Many CPG companies believe going through the 'Digital Transformation Journey' will improve their business processes, but is this right? This process can be timely and costly; a company's whole business process does not need transforming but instead evolution.
There is no doubt thoughtful transformation is required but successful businesses have been transforming themselves for years. It is possible and wise to look at the past and evaluate your organization's strengths before planning the future. Successful transformations include remembering the basics and approaching it as an ongoing process rather than as an event.
Overcoming technical challenges and leveraging the skills of the people and tools you have invested in and developed over the years, is part of that process. Milestones and measurement of each step and critically examining the components and pace of the transformation is essential to ensuring an appropriate positive return on the transformation.
Tap into the future of CPG with StayinFront. Schedule a demo or discovery call with our sales team to see how StayinFront can help you achieve retail execution growth.