FOCUS ON THE RIGHT STORE POST LOCKDOWN
As I write this blog, it is discomforting to realize how much has changed in the last five weeks in the UK and across the globe. The Coronavirus pandemic has forced governments to introduce social distancing through varying forms of lockdown. The grocery industry is now designated as essential, to ensure that the nation can feed itself. Even before the lockdown, there were seismic shifts on demand with panic buying of everyday essentials, with our inability to purchase the humble toilet roll endemic across English speaking markets across the globe.
We have reverted to be a nation of weekly shoppers with consumers preferring to minimize the amount of time in-store and bulk shop once a week. This has led to a significant decline in the frequency of shopping, an increase in the trip spend, and an explosion in demand for online shopping.* I have never had to queue to be able to access a retailer online shopping portal before and delivery slots are rightly being prioritized for the most vulnerable. Retailers have reacted quickly to this new environment by adding to their online capacity and reducing ranges to enable more space for essential items. However, I am sure I am not alone in experiencing that many of my favorite products are impossible to locate and finding flour has become a treasure hunt.
Currently, the focus for brand owners is to meet the consumer demand for their products by collaborating with retail partners to maximize availability of the largest volume SKUs. This will probably continue to be the focus in the short term as we prioritize the nation's health over the economy. I am by nature an optimist, and hope that the vaccine trials in Oxford will yield positive results and mass production can start in September. This will enable the whole economy to re-open and a return to normal business between suppliers and retail partners. For CPG companies, an immediate priority will be to assess their SKU distribution by retail partner and identify gaps versus prior to lockdown.
This can be achieved by analysing granular SKU-by-store POS data to identify distribution losses by store and prioritize fixing these based on the 'Size of Prize' opportunity. A back to work call file can then be subsequently developed and executed to address the largest distribution gaps. This can be achieved by deploying tactical teams to expand the coverage of your existing field team and enable you to secure competitive advantage in the process. Arming the customer development team or the field sales resources with these insights can enable action to be taken quickly to address. StayinFront RDI can support brand owners in analysing the data and deploying our proprietary algorithm to identify the distribution gaps and a size of prize for fixing. Please get in touch with us if you would like to explore this in more detail and focus your field teams on the right stores.
Source: Savanta BrandVue Retail, March 2020
Want to learn more? Register for our upcoming Webinar on May 28th, 2020 at 10AM EDT/3PM BST . In this session we will discuss, in more depth, how to focus the field team on the right stores post lockdown.
With 32 years' experience, Andy Foweather is the Managing Director for StayinFront RDI. Andy is an accomplished sales leader with expertise in delivering profitable sales growth through developing winning strategies and organizations.
Andy has operated at the Board Director level for over eleven years, leading substantive change in the UK and across European markets. He has been successful at influencing and driving alignment in matrix organizations and leading cross functional projects.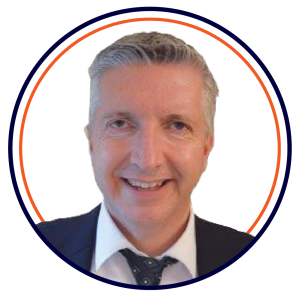 Follow his posts and activities on LinkedIn here: