RETAIL EXECUTION ACRONYMS THAT EVERYONE IN THE CONSUMER GOODS INDUSTRY SHOULD KNOW

Become a retail execution expert!
In the consumer goods industry, there are many acronyms used, and sometimes you may not understand all of them. At StayinFront, we are definitely guilty of using many acronyms, so let us help you stay on top of the key acronyms to ensure you are a retail execution expert!
Below are some of the top acronyms that we believe would be helpful to anyone in the consumer goods industry:
CG – Consumer Goods
Goods purchased and used by consumers rather than by manufacturers for producing other goods.
CRM – Consumer Relationship Management
Practices, strategies and technologies that companies use to manage and analyze interactions and data through the consumer lifecycle.
DAVP – Distribution, Availability, Visibility & Promotion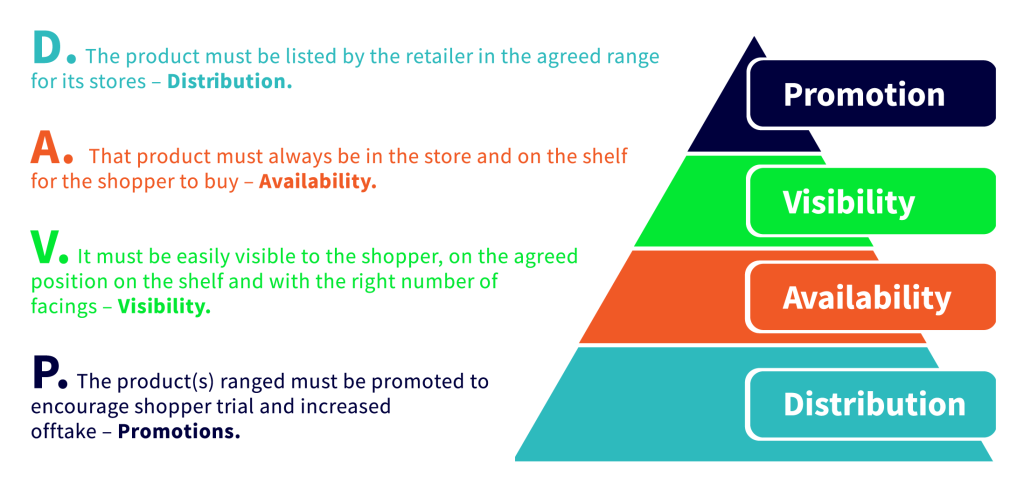 DSD – Direct Store Delivery
A key method of selling and distributing products for a large variety of industries, such as food, beverage, home personal care products and wholesale
EPoS – Electronic Point of Sale
Any computerized system, which may include devices such as barcode readers, scanners and touchscreens which is used to record sales and control stock.
FSDU – Free Standing Display Units
A type of flexible retail display that's dedicated to highlighting key products, typically in retail environments.
KAM – Key Account Manager
A Key Account Manager is assigned to a company headquarters to oversee the account team assigned to a particular account. This includes planning and managing the full relationship between a business and its most important customers.
MSL – Must Stock List
A list of inventory of the goods or raw materials kept on the premises of a shop or business.
OOS – Out of Stock
A situation where the retailer does not physically possess a particular product category, on its shelf, to sell to the customer.
OSA – On-shelf Availability
The availability of products for sale to a shopper, in the place they expect it and at the time they want to buy it.
POS – Point of Sale
The time and place where a retail transaction is completed.
Rep – Representative
An appointed person to perform retail execution tasks in store.
ROI – Return on Investment
The ratio between the net profit and cost of investment resulting from an investment of some resources.
ROPO – Research Online, Purchase Offline
This is modern trend in buying behaviour where customers research relevant product information to qualify their buying decision, before they actually decide to buy their favourite product in-store.
RTM – Route to Market
Route to market is ways and means of distribution of product to shoppers or end-consumers
SaaS – Software as a Service
Software as a service is a software licensing and delivery model in which software is licensed on a subscription basis and is centrally hosted.
SKU – Stock Keeping Unit
An identification, usually alphanumeric, of a particular product that allows it to be tracked for inventory purposes.
SOP – Size of Prize
The worth of an opportunity for your company when allocating resources to each task.
SOS – Share-of-Shelf
The total amount of space available in a store to display goods for sale, or the amount of space for particular goods.
TCO – Total Cost of Ownership
An estimate of all the direct and indirect costs involved in acquiring and operating a product or system over its lifetime.
We hope this helps you on your retail execution journey. If you have any question, please contact marketing@stayinfront.com. Or, to find out more about these terms, visit our website: www.stayinfront.com.